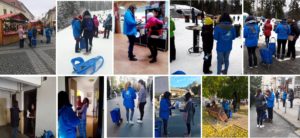 challenge
increase brand recognition and generate trial among consumers for top P&G household brands simultaneously. Reach1,000,000 unique homes, in Romania, urban only, with a cost efficient way of monitoring.
solution
door to door & street activation program in top 30 cities of Romania. Online reporting and supervision and live tracking for the account team and client.
results
over 150 promoters with iPads working online for 6 months, daily online reporting, over 1 million unique households approached and over 2.5 million samples distributed.